Best Ant Sprays – Reviews and Buying Guide
Sprays are good for IMMEDIATELY dealing with the problem of the ants you see, something you want to do if you see them crawling in your kitchen or bathroom. In this guide, we recommend the best and sprays available today.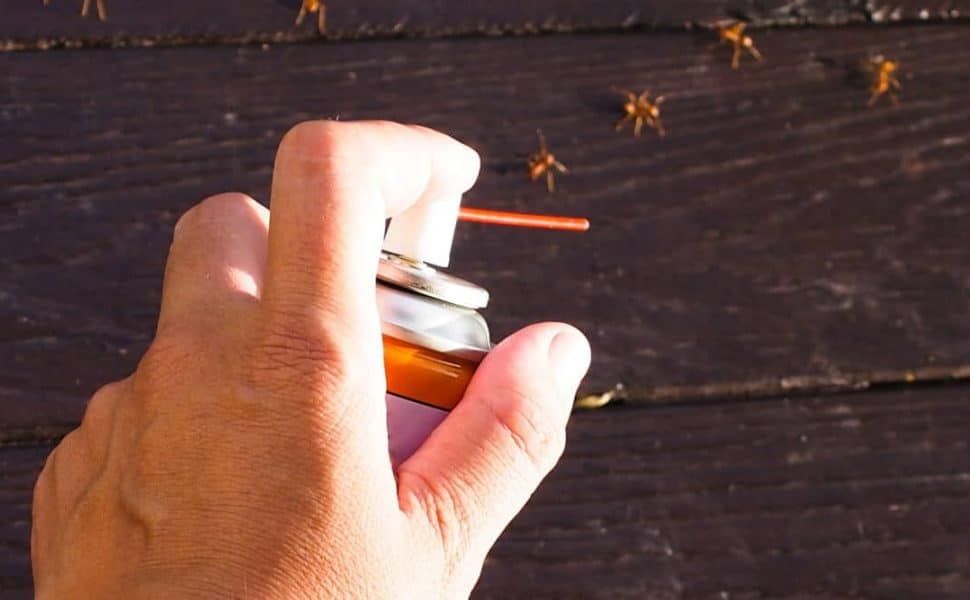 Ants are by far one of the most annoying creatures on the planet. They ruin everything, from store cupboard foodstuffs to picnics, and some of the little critters even damage our homes.
So what better way to return the favor than in the form of an instant ant knockdown? Here we are going to recommend the best ant sprays on the market, so you can shoot to kill.
From the gentle and eco-friendly options to the harsh and full-on takedown choices, we have an ant spray for everyone and every ant situation.
We'll also talk you through how to choose the best ant spray for you and your particular ant situation. After all, there's no point buying one if you don't know whether it's the right option for you.
So, let's get straight into it.
What is Ant Spray?
Ant sprays are liquid chemical formulas that come in either an aerosol format or hand spray bottles. The chemicals or natural oils in these products are designed so that the ant ingests or absorbs the spray, which will then kill them.
The harsher types of ant spray use pyrethroid insecticides that kill instantly. In the world of pest control, this is known as the 'knockdown effect.'
Other, greener, and more environmentally friendly sprays use a mix of oils and scents such as cloves, cinnamon, peppermint, and rosemary. These can be just as effective if used in the correct dosage and the right locations.
Some ant sprays aren't designed to kill, they simply repel them from coming back. So, if you don't like the idea of an instant takedown, a repelling ant spray might be more your style.
What's the Difference Between a Spray and a Bait?
To put it simply, the only real difference is time – the time difference between application and death.
A spray with the knockdown effect will kill on contact, as well as creating a scent barrier by interrupting the scent ants leave for the fellow ants to follow. This means it can stop ants crossing the threshold into your property or returning after their buddies have gone to ant heaven.
In comparison, an ant killer or bait offers a slow-release poison or a reactant. Essentially, these will kill the ants from the inside out.
The worker ants will take the bait back to the colony and share it around among all the ants. This means that when the active ingredient takes effect, it kills many more ants, and if you're lucky, the queen too.
That way, it is likely to get rid of your ant problem permanently by destroying the colony itself. It's slower, but it tackles the root of the problem, though you don't get the satisfying instant ant knockout.
When to Use an Ant Spray, Instead of Ant Killer or a Trap?
Ants are usually in your home for one of two reasons. The first reason is that they are living nearby and have come to search for food. They typically seek out sweet foods and will be seen in a convoy in a few areas.
The second reason is that they have taken up residence in your home, and they are in the process of building nests and seeking food. In a short time, they will become more abundant.
If the ants are seen entering and exiting the house and are mainly in unwanted locations. Such as your cupboards or fridge, the chances are they are just there for the food.
In which case, a spray will kill the ants instantly and create a scented residue barrier that will stop more of them coming back to that location. Take action as soon as you notice them, and that way you decrease the chances of them claiming squatters rights.
If you see them disappearing under baseboards and into internal walls, chances are they are in for the long haul. In this circumstance, a bait station is best. Again, take action as soon as you realize the ants are in your home.
Ant killer and traps are slow working, they will take two to three days to take effect. But they will ultimately do a better job in these situations.
Do I Need Different Sprays for Different Ants?
In short, no, most ant sprays are designed to do the same thing, which is to deter them or kill on contact.
There is a small caveat here, though, in that the larger and more invasive types of ants, such as carpenter ants, may need the harsher chemicals to knock them down instantly. But they might not, so when it comes to the bigger boys, it will be trial and error.
How to Choose the Best Ant Spray
There are several things to consider when choosing the best ant spray for your particular circumstances.
Read and follow these simple pointers, and you should get it right the first time.
Does it Suit the Problem You Have?
As touched on before, if you have just a few ant chancers passing through in search of a sugary snack, any ant spray will kill them effectively.
The better quality sprays, however, will have a dual-action. This is to kill and leave a residual barrier preventing ants from returning. Lower quality sprays may just kill on contact, and some of the natural products will act just as a repellent.
If, however you have a suspected infestation, a spray will only provide a fleeting reprieve from the unwanted house guests. And with this problem, bait is the only truly effective way to dispose of the colony and any related nests.
Indoor or Outdoor Use?
The type of ant spray you need will depend on whether your ant problem is outside or inside. An indoor ant party is quickly broken up with most ant sprays as there is little chance of rain.
An ant infestation in your lawn or your patio, however, will mean you need a spray that can stand up to the elements and still do its magic.
Sprays designed for both indoor and outdoor use will have an oilier base as this means they are harder to wash away with water. They will also leave some residue to create a barrier that repels the ants and stops them from crossing into specific areas like your home.
Must it be Pet and Kid-Friendly?
This is a real deciding factor for many. A harsh chemical-based recipe may mean that you can only use it when pets and children aren't present.
Or it could mean that a room is out of action for a while once it is applied as it will be toxic for any pets or kids that touch it or lick it. And if this is the kitchen or the telly room, you're not going to be popular.
If you have furry friends and mini-me's to worry about, an organic, all-natural spray will be the right choice for you. Not only will it mean the kids and pets are safe, but it will also be better for the environment and your home in general.
Best Ant Spray Reviews
From the research we have done, and after trawling through countless ant spray products just so that you don't have to, here are our top picks.
So, in no particular order, here are the most effective and best ant sprays on the market.
Ortho Home Defense Insect Killer
Ortho home defense is a serious looking piece of equipment. Not much different to a pest controllers pump and spray applicator. It comes with a pressure tank and wand system without the need to pump.
This system is built for ease of application and to provide maximum coverage. While also being easier on your arms and wrists.
The active ingredients are bifenthrin and zeta cypermethrin, both of which are pyrethroid insecticides. It mirrors the toxic effects of pyrethrins in pyrethrum extract, which comes from the chrysanthemum plant.
By manufacturing the pyrethroids, it is possible to extend the effect they have. It kills on contact by causing the ant's digestive system to shut down.
Ortho defense will last up to 12 months when applied as an insect barrier. You simply spray around the perimeter of your home, inside doorways, and on windowsills. The odor it gives off is not detectable by humans, but it has the desired effect on bugs.
Because it is odor and stain free means that you can use it in the kitchen and other areas that you would typically avoid when using messier products, such as gels, powders, and granules.
So, you can tackle the problem at the source when you see ants and prevent them from coming back by spraying a perimeter.
It is effective against carpenter ants, fire ants, lawn ants, Argentine ants, pavement ants, pharaoh ants, pyramid ants, and red/western harvester ants.
TERRO Outdoor Ant Killer Spray
This Terro outdoor ant killer spray works to prevent an infestation before the ants get to your home. It has a patented blast and knockdown effect, which means it's as simple as point and shooter sprays.
It will kill on contact and it also creates a barrier to prevent them from crossing the threshold.
Apply the spray to the areas where you see ants, such as cracks, crevices, windowsills, or doors. This way, you can prevent them from entering and foraging for food.
Alternatively, you can follow the trail of ants back to the colony. Then spray them as they enter and exit their territory for a more comprehensive application.
Although it does not kill the colony by spreading poisonous bait among the ants, it will kill as many ants as you can find.
The residual spray on surfaces and floors then creates a barrier that they will avoid. Which will prevent them from returning to your home even if the colony is still nearby.
With its pressurized contents and the extra extended nozzle, it can shoot the spray up to 15 feet away to get into those harder to reach areas.
This Terro spray reaches and kills all kinds of outdoor pests that hide in nooks and crannies in the home and garden. This includes carpenter ants, fire ants, cockroaches, spiders, boxelder bugs, and many more insects.
Raid Fragrance-free Ant and Roach Killer
Raid's ant and roach killer are uber effective in the home. So, when you see ants in and around the house helping themselves to your sweet treats, this ant spray is an excellent choice for a kill on contact ant killer.
This is a new formula from Raid, and it is unscented. It does not have the heavy chemical aroma that some other products have when sprayed indoors.
Raid has also removed the oily substances that they previously used in their other products so that the spray leaves less residue on surfaces. This makes it an excellent option for your surfaces indoors.
The water-based formula also means that the can will last longer as the water base is a thinner consistency and will not clog the jet on the can.
It also means the product is more environmentally friendly than it was because there are no CFCs. CFCs are a member of the ozone depletion range of chemicals that go into a lot of pressurized containers.
The key ingredients in this spray are zeta cypermethrin, which we have touched on already. Plus, imiprothrin, which is another popular synthetic pyrethroid insecticide.
This is an ingredient favored by manufacturers for the consumer market as indoor products. It has a less pungent chemical odor than other pesticides. Although low in toxicity to humans, with insects, it acts as a neurotoxin causing paralysis and death.
EcoSmart Ant & Roach Killer Aerosol Spray
EcoSmart spray is designed and formulated to be both eco-friendly and organic, which is great for those of us that are concerned about releasing pesticides and other harmful chemicals into our environment.
It is also easy to use, with no foul smells, and it is safe to apply with pets and kids around. The recipe is natural, organic, and it is made with non-toxic ingredients.
The two main repellents are peppermint and rosemary oil. Eco Defense states this is the perfect solution for those looking to tackle common pests. Without the need for the harsh chemicals that other products use.
It is effective against ants, roaches, spiders, fleas, mites, and many other common household pests.
This spray starts to work as soon as you spray the pest. For many insects, with ants being one of them, it will prove deadly and kill them almost instantly.
With other insects, the strong smell of the peppermint and rosemary oil will disorientate the insect and send them packing. The pungent scent is then left in situ as a repellent to stop them coming back. Some of the smaller insects will also drown in the fluid mix.
Due to the all-natural makeup of this product, it is perfectly safe to use around pets and children. Fido might turn his nose up at the strong smell, but it will do him no harm.
Plus, if you're unsure that it will be as effective as a chemical pesticide-based product, Eco Defense comes with a 60-day no-quibble money-back guarantee if you aren't happy with the results.
Eco Defense Home Pest Control Spray
Eco Defense home pest control spray is a natural product. It is designed to kill and repel home-invading pests such as ants, roaches, and many other household pests.
It is a non-toxic alternative to regular chemical-based pest products containing a mix of peppermint oil, geranium oil, and sodium lauryl sulfate as its active ingredients.
Most pest control solutions are effective in killing insects. Still, many are also full of chemicals that can irritate human skin and be harmful to children and pets. These harsh chemicals are also known to cause an allergic reaction in those with very sensitive skin.
But Eco Defense pest spray is USDA certified biobased because it uses plant-sourced ingredients that are safe to humans and animals alike. So, it is perfectly safe to spray in all areas of the home.
It will also leave a pleasant peppermint smell, which also repels insects and prevents them from coming back.
On an unrelated ant note, an added benefit from this spray is to use it inside closets where moths can also do considerable damage. Spray it on the walls inside your wardrobe, and it will stop them munching on your best suits and blouses.
Some more potent chemical-based sprays can leave heavy residues and even stains on light-colored flooring or surfaces. Eco Defense has factored this into their product by making sure it is home friendly.
This means it will not stain hardwood floors, carpets, or even curtains and couches if that's where you need to spray it.
MDX Concepts Organic Home Pest Control Spray
Magma home pest spray by MDX Concepts is a natural and non-toxic insect killer and repellent. MDX claims that it kills quickly and continues to repel without using harsh chemicals that could be dangerous to people and pets alike.
The Magma spray kills and repels all kinds of infestations of ants, fleas, earwigs, stink bugs, and a host of other annoying insects. It is fast-acting and long-lasting.
All you have to do is spray it directly on the pest and in any nooks and crannies that you find them in, and it will do the rest.
The Magma recipe uses several essential oils such as peppermint, rosemary, and spearmint.
It also uses sodium lauryl sulfate, which is a surfactant. In simple terms means that it lowers the surface tension of water and helps products to foam when used.
Non-toxic in nature, Magma eliminates the unhygienic environment that chemical sprays can create in the home with their residues and strong odors. Many pest control sprays that are pyrethroids-based are known to be problematic for those people with breathing illnesses and sensitive skin.
Magma is for both outdoor and indoor use. Meaning that you can use it to spray around the home, creating a natural repellent barrier that insects won't cross.
With ants, strong smells will disrupt their ability to lay scent pheromones that lead other workers to food sources such as your pantry or garbage cans.
How Do You Use Ant Spray?
A lot of ant sprays are as easy as point and shoot. You see the ant, you spray the ant, you say goodbye to the ant.
But with a little forethought and a planned application of the spray, not only will you kill the ants you see, but you can also prevent them from coming back.
When you first see ants in your home or garden, you need to fight the urge to go to battle straight away. A little espionage and strategy is required first.
Watch the ants and see where they are coming from and where they are going to. That way, you can work out whether the colony is outside or indoors.
Once you know this, you can make sure you have the right sprays to tackle the job. If the ants are coming in from outside, you will need to address the ants directly. As well as the entry and exit points that they use.
An ant spray that offers repellant abilities is good for spraying around doors and windows. And also for applying around the house as a barrier for the incoming ants.
Spray it into cracks, crevices, wire holes, and drainage pipe inlets and outlets. By doing so, you will be making your house less attractive for ants before they come in.
Once the perimeter is set, you can rid yourself of the ones doing the roaming. A strong ant spray that kills on contact should be used to kill the ants you can see.
This is where the point and shoot comes in, and the knockdown effect takes place. Choose a spray with a good range and kill as many of the ants as possible. Treat them to a good shower with the spray, and this should do the trick.
Then you can use it in cupboards and under sinks to make sure the popular spots ants go for are also coated in the ant killer and repellent.
Wrap Up
Well, there you have it, ant sprays are great for an immediate assault on the ants who are causing you a pain in the butt. Sprays can provide some reprieve from them returning to your house, too, by creating a repellant barrier that keeps them away.
So, whether you want an instant and long-lasting knockdown so that you're sure they're dead. Or you want a pet and kid-friendly spray that won't shut down half your house after you spray it, there is something for everyone in our list of the best ant sprays.
Which ones have you tried, and how effective were they? Let us know what you think of these products and send us any questions you have in the comments below. We'll be happy to answer them.
Save time and money on pest control
Subscribe to expert DIY pest control tips, pest control product reviews and information.